TAKE ACTION
There's no single response to the complex issues of immigration, but as you explore what the Bible says on this complex topic, you may be looking for ways to respond through prayer, ministry to and with immigrants and advocacy for more just and compassionate public policies.
CURRENT ADVOCACY OPPORTUNITIES
Each of us has been entrusted by God with influence. On occasion, the leaders of the Evangelical Immigration Table have sent letters to governmental leaders related to immigration policy issues, guided by biblical values. We invite you to click the button below to take part in our most recent advocacy opportunities.
SIGN OUR PRINCIPLES
Since launched in 2012, thousands of national evangelical leaders as well as local pastors have affirmed the Evangelical Statement of Principles for Immigration Reform.
A GUIDE TO ENGAGING IN RESPECTFUL CONVERSATIONS ABOUT IMMIGRATION
Immigration is a complex issue that many people are very passionate about. This guide is a resource to help ensure that challenging conversations are both productive and respectful.
REFUGEE RESETTLEMENT
Christian organizations have long been at the forefront of helping newly arrived refugees rebuild their lives in the U.S. Learn more about three evangelical organizations that may be present in your community and add your name to support ongoing refugee resettlement in your state.
IMMIGRATION LEGAL SERVICES
Most immigrants require legal counsel and support at some point or another. Learn about several evangelical organizations that help to provide authorized, affordable immigration legal services.
TELLING A BETTER STORY
The Evangelical Immigration Table's blog aims to give space for stories around the country of churches, ministries, and individuals welcoming immigrants and refugees in the Name of Jesus. We will tell ministry stories, show how the gospel is being shared with immigrants, and also hear how immigrants are both blessing and transforming the church in America.
PRAYER PARTNER
The Evangelical Immigration Table's monthly prayer partner story invites thousands to pray alongside us, and often features the stories of immigrants and other leaders.
HOW TO SUPPORT IMMIGRANTS IN YOUR COMMUNITY
Here are a few ways you can engage the immigrants in your community to help you get to know immigrants as people made in the image of God rather than thinking about immigration only through political or policy lenses.
MINISTRY TO MIGRANTS ALONG THE BORDER
Many individuals and churches have heard about the challenging situation along the U.S.-Mexico border in recent months. We've listed several churches and organizations ministering in Jesus' name at various points along the border.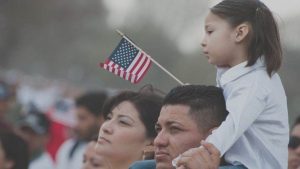 RESTITUTION-BASED IMMIGRATION REFORM
Evangelical Christians believe we need a solution to the situation of immigrants living unlawfully in the U.S. that is neither amnesty nor mass deportation. Read and consider adding your name to the Evangelical Call for Restitution-Based Immigration Reform.